Strawberry fit tapioca jelly 30 g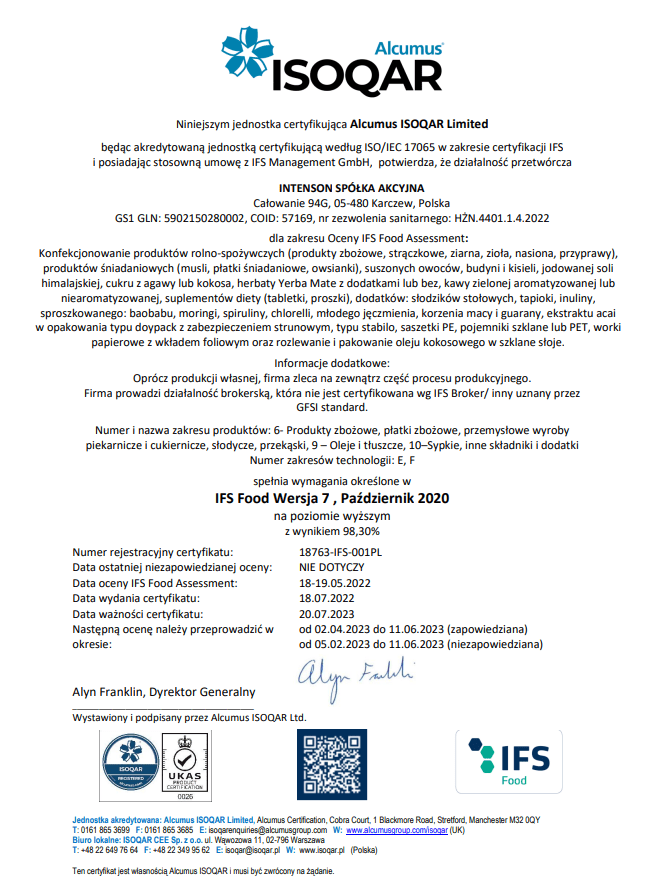 Strawberry fit tapioca jelly 30 g
• natural
• tapioca flour-based
• no added sugar 
• with superfoods
• with acai berries
• with goji berries
• with vitamin C
Strawberry FIT Jelly is a natural, delicious, healthy and most importantly, diet dessert made with tapioca flour which is a valuable energy source. 
The jelly has a subtle strawberry flavor and contains the most valuable superfoods – goji berries and acai berry extract with antioxidative properties.
The jelly is enriched with vitamin C.  It also contains fiber which naturally regulates the digestive system activity and helps maintain a slim figure. It contains no white sugar.
Ingredients: Sweetener – maltitol, tapioca starch 30.7%, dried goji berries (Lycium barbarum) 4%, natural flavoring, acidity regulator – citric acid, lyophilized strawberries 0.8%, L-ascorbic acid (vitamin C) 0.6%, 4:1 acai extract (Euterpe oleracea) 0.3%
Storage conditions: Store in a cool, dry place in a tightly closed container.
Use: Put the contents of the bag in a cup, pour in approximately 175 mL of water, stir vigorously for one minute.
Nutritional value in 100 g:
Energy value: 165 kJ/39 kcal
Fat: 0 g
of which saturates: 0 g
Carbohydrates: 13g 
of which sugars: 0.3 g
of which polyols: 8,8 g 
Protein: 0 g
Fibre: 0 g
Salt: < 0.01 g
Vitamin C: 88 mg


Super smak dla dobrej formy 👍