Gluten-free muesli + Detox 200g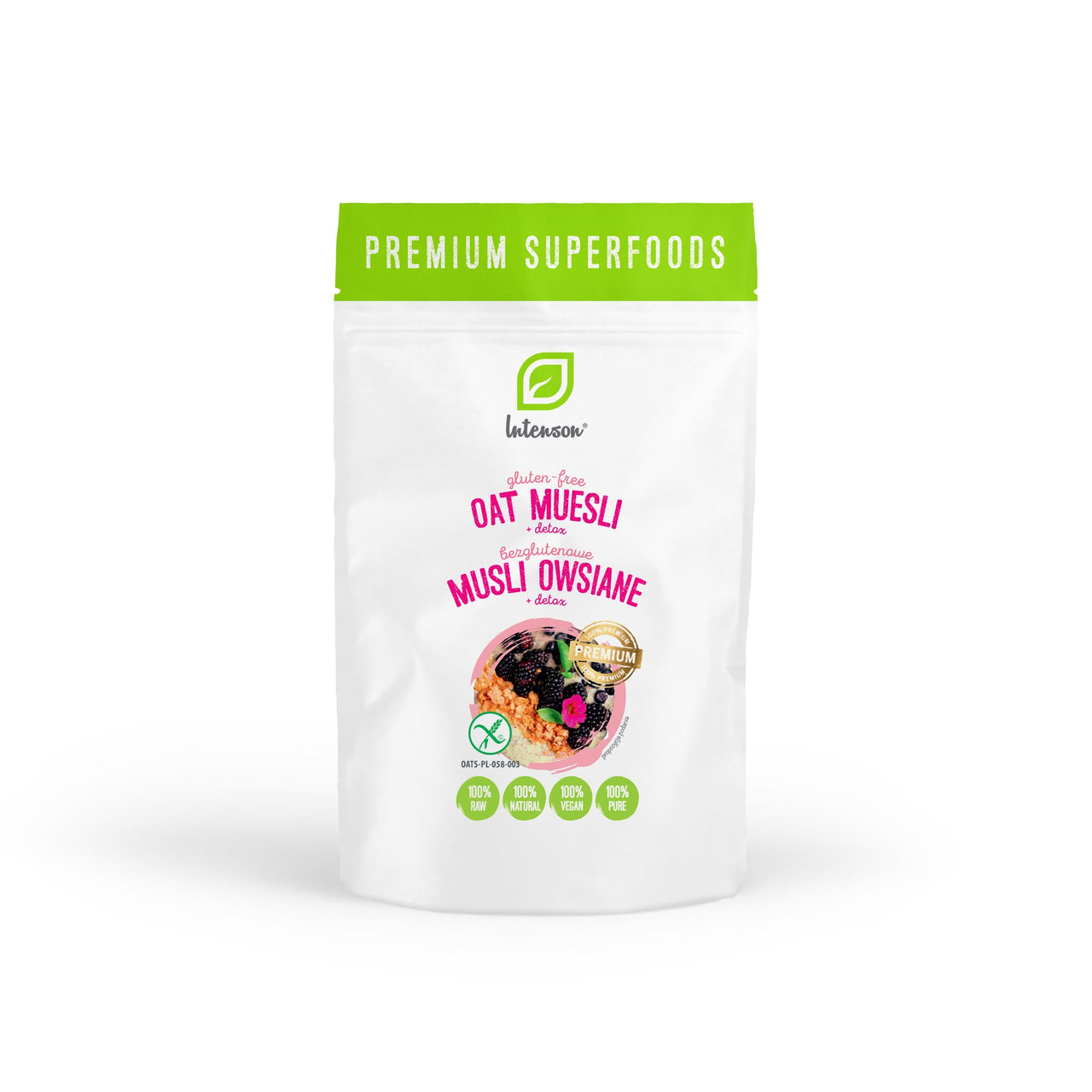 Gluten-free muesli + Detox 200g
MUSTARD OATED DETOX
Oat muesli + detox belong to the category of muesli, which were created by combining oatmeal with fruit and grains. It is characterized by high fiber content, which supports the daily work of the digestive system. Muesli is also a source of protein. In combination with milk or yogurt, it is a delicious, nutritious meal.
 Usage:  Use as an addition to milk, yogurt, desserts or for direct consumption as a nutritious snack.
Nutritional value in 100 g of product *
Energy value
1410 kJ / 335 kcal

Fat, including:

- Saturated fatty acids

5.6 g

0.9 g

Carbohydrates, including:

- sugars

60 g

12 g

roughage
11 g
Protein
12 g
salt
0.7 g
Ingredients: oat flakes 69%, dried fruit 19% [raisins 10% (raisins 99.5%, sunflower oil 0.5%), dried white mulberry 6.9%, dried goji berries 1.7%, 0.5% freeze-dried apple], grains 7% [sunflower 3.4%, expanded amaranth 3.4%], apple fiber 5.1%
Manufactured in the factory where they are made up nuts, peanuts (peanuts), sesame  and products containing sulfur dioxide, eggs, milk, celery.
Country of origin: Poland
Manufacturer: INTENSON EUROPE SP. Z O.O.
Kissing 94 G
05- 480 Karczew
www.intenson.pl
Expiry date and batch number on the packaging.
Store in tightly closed original container.
Available in packages:200 g
* depending on the batch (current nutritional value on the packaging)