Chia seeds - Salvia Spanish 250g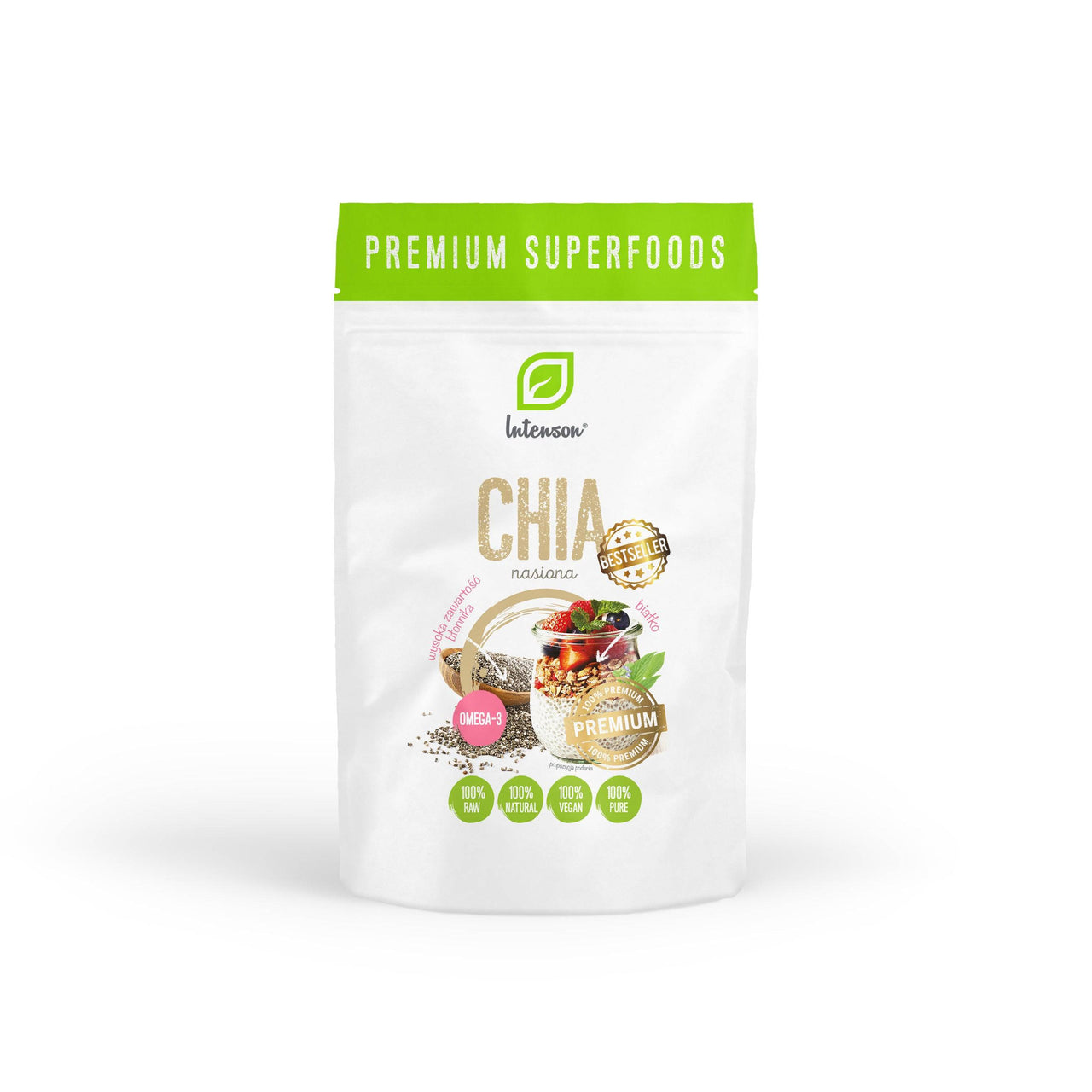 Chia Seeds of Salvia Spanish

(Salvia Hispanica L)
Chia, also known as Spanish sage, is a source of protein, has a high content of digestive fiber, omega-3 fatty acids and many minerals and vitamins.
How to use: You can eat directly as an addition to salads, porridge, muesli, cocktails, boiled groats, potatoes, as a vegetable sprinkle. Ground seeds can be combined with flour, e.g. to bake the cakes and bread and for preparing soups and pancakes. Daily seed intake should not exceed 15 g (about 3 teaspoons). Spanish Semor Seeds can be used in bakery products in a maximum of 10%.
Recipe for pudding from Chia seeds from Mango: Mix a glass of vegetable milk (eg almond) with 1 tablespoon of honey. Then pour into a bowl of 0.25 cups of chia seeds and pour a milk mix. Cover with foil and put on the fridge for the night. The next day, peel the mango, cut a stone and rewrite in a blender. Puree obtained put on the obtained pudding. Decorate dessert with favorite fruits. Dessert can be sucked by xylitol or coconut sugar.
How to use Chia seeds?

10 ways
1. Chia seeds work perfectly as a substitute that in vegan recipes.
"Egg" from Chia seeds in one simple pace!
1 tablespoon of chia seeds for 2.5 tablespoons of water.
Due to their consistency, they are ideally suited to compete for soups and sauces.
To do delicious and fast performed by Chia Pudding.
Mixed with water with lemon as an energy booster.
Added to your favorite smoothie to increase its nutritional value with valuable omega acids.
Chia seeds can be made by low-calorie jam.
To sprinkle muesli or salads.
If you do not like CHIA seed consistency, you can measure them in a coffee grinder and such a powder to add to smoothie or cocktails.
For all kinds of pastries, including bread.
Chia seeds planted as a cress will turn off, and chia sprouts will diversify every salad or a sandwich.
Nutritional value in 100 g of product **

Energy value
1864 KJ / 452 kcal

Fat, including:

- Saturated fatty acids

- Single-synsaturated fatty acids

- polyunsaturated fatty acids,

including:

- omega-3 acids

33 g

3.3 g

2.2 g

27 g




18 g (3000% *)

Carbohydrates, including:

- sugars

0.5 g

<0.1 g

Fiber
33 g
Protein
23 g
Salt
0.13 g
Calcium
543 mg (68% *)
Iron
7.72 mg (55% *)
Magnesium
337 mg (90% *)
Zinc
6.06 mg (61% *)
Folic acid
49 μg (24% *)
* Reference consumption value for an average adult person (8 400 kJ / 2,000 kcal)
Ingredients: 100% Seeds of Salvia Spanish
Country of origin*:Bolivia, Mexico, Argentina, Peru
Producer:
Intenson Europe Sp. z o.o.
Całowanie 94 g
05- 480 Karczew
www.intenson.pl
Date of fitness for consumption and party number given on the packaging.
The product should be stored in the original, tightly closed packaging. Protect from strangers and sunlight.
* depending on the party (current country of origin on the packaging)
** Depending on the party (current nutritional value on the packaging)
Mój ulubiony superfoods
Stosuję nasiona chia od dawna. Te od Intenson się super sprawdzają i będę je na pewno zamawiać.
Ocena
szybko i sprawnie zrealizowano zamówienie
Nasiona chia - szałwia hiszpańska 250g
Nasiona Chia - Szałwia Hiszpańska 250g