Short Date Chocolate Protein Pudding 6x30g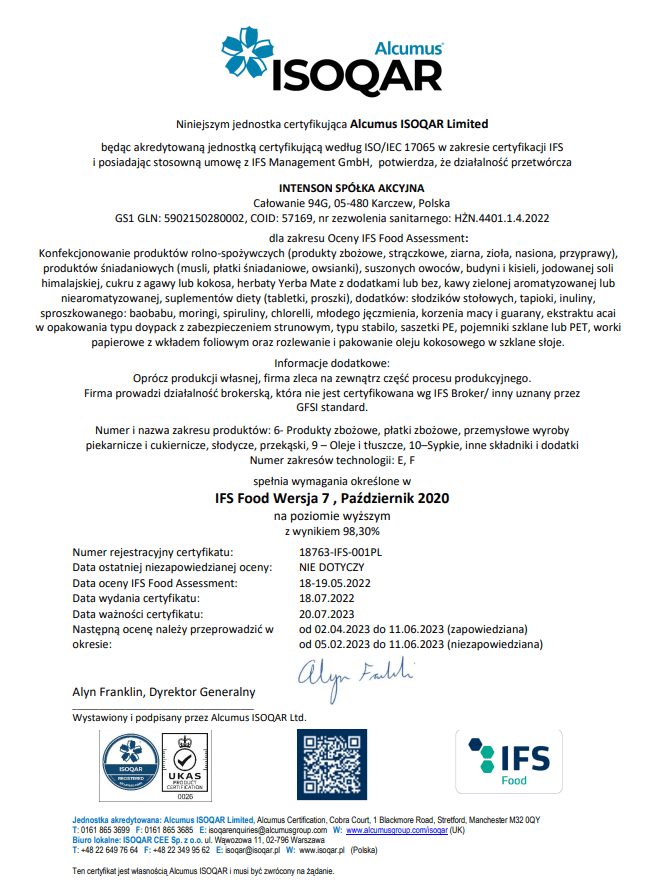 Expiration date: 25.03.2022
Protein pudding with chocolate flavor This is an excellent proposition for amateurs of this dessert in the FIT version. It is a protein source, which is why it provides valuable energy for a longer time. Ideal, as a sweet snack or proposal for a delicious breakfast.
A method of preparing:Pour the contents of the cup for a cup and dissolve in a small amount of water, then pour 185ml of boiling water into the cup and mix the teaspoon vigorously to obtain a smooth consistency. 
Protein puddings with WPC
What distinguishes protein pudding?
Protein pudding is a functional product that is a source of protein, thanks to content
Wpc
At the same time, maintaining all the properties of traditional pudding, ie taste, consistency or smell. Unlike others is in
100% natural
And it does not contain any artificial additions. Another Distinction of the Product is its base - a mixture of potato starch along with
tapioca
- starch obtained from an exotic plant.
It does not contain white sugar
- Subscribed to cane sugar.
What is WPC - source of a pudding protein?
Protein
Wpc
It's from the English Whey Protein Concentrate, that is, in a literal translation, whey protein concentrate - known and appreciated by athletes. It is obtained by ultrafiltration of milk proteins that allow for behavior
High amino acid content
while maintaining a low amount of fats and carbohydrates. By
60-80 percent pure
Includes only 2-6 percent. Fat and 3-8 percent. carbohydrates. It is due to the proportions of these nutritional values ​​used by athletes and physically active persons.
What are the WPC properties?
Thanks to the high content protein, the WPC protein supports the body in the increase in muscle mass without the risk of peeling muscle mass in the body.
Its low calorie allows you to reduce fat weight during weight loss.
Supports muscle regeneration
Complete a portion of protein in a diet
Pudding is available in two flavors - chocolate and vanilla.
Protein puddings with two prizes!
Our latest products - protein pudding received two distinctions of the "Good Product 2019" certificate in the "Innovative Product" category and "Good Product" in the voting of Internet users. The official handing of certificates took place at Gala during the 12th Food & Trade Forum - the largest conference forum from the food industry in Poland 
Ingredients:Unrefined cancene sugar, potato starch, WPC (whey protein concentrate), 15% tapio starch, skimmed milk powder, cocoa with reduced fat content, natural aroma. It may contain soy.
| | | | |
| --- | --- | --- | --- |
| Nutritional value in a dry matter | Nutritional value in 100g | Nutritional value, 1 portion = 30g | RWS (% *) |
| Energy value | 1544KJ / 364 KACAL | 463KJ / 109 KACAL | 5% |
| Fat, including | 1.9g | 0.6g | 1% |
| -Saturated fatty acids | 1,2g | 0,3g | 2% |
| Carbohydrates, including | 70g | 21g | 8% |
| - | 41g | 12g | 14% |
| Fiber | 0g | 0g | - |
| Protein | 17g | 5.0g | 10% |
| Salt | 0,2g | 0.06g | 1% |
Net weight 30g
Collective packaging 25pcs
Pychaa
Przepyszne budynie. Moje dzieciaki również je pokochały 😍